The day near Salzburg started with collie torture! We had to watch the humans eat! And nothing dropped. Humans are so voracious.
After this we start to explore the surroundings. I must state Austria is beautiful if it not rains!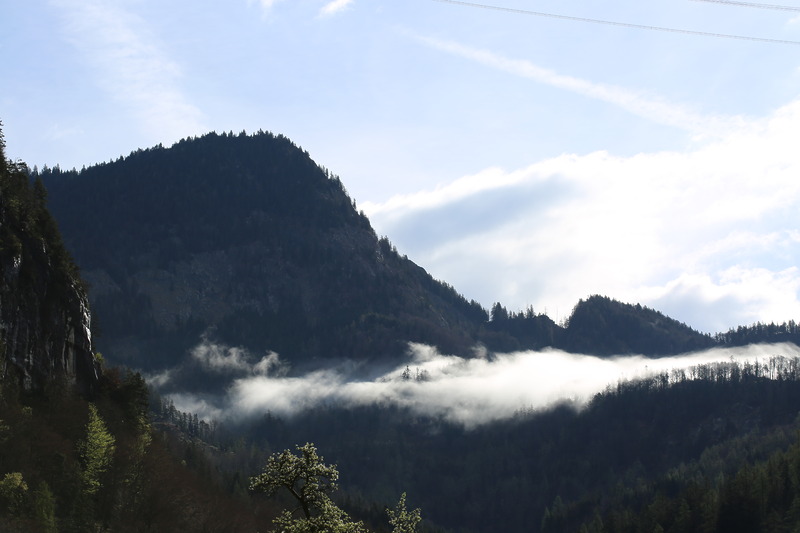 The Lady must plan something. I heard her phoning and than we drove to a car park and waited.
The Lady ment it is time for the summer heat stop dress training. I look incredible… but there is something on my bum!
After some time a car arrived and a woman got out. She cuddled the Lady. Her voice sounds familiar from the PC at work. I conclude, the Lady knows the new woman. We started an examination and state the new woman is very nice.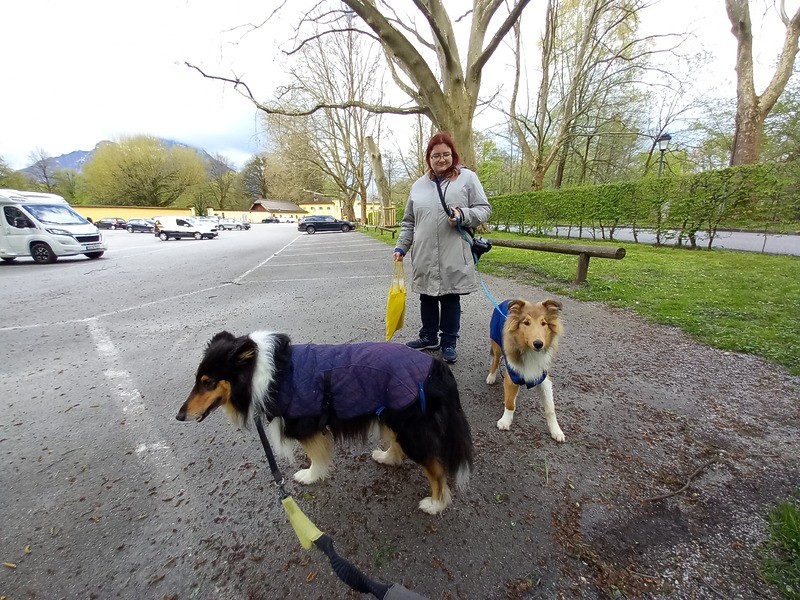 The Woman lead us to a doggy park. Sometime later a man arrived with Samir our local guide. I – Gavriel – made friends with him. Samir is the office dog of Roscus and IL-DO Deutschland.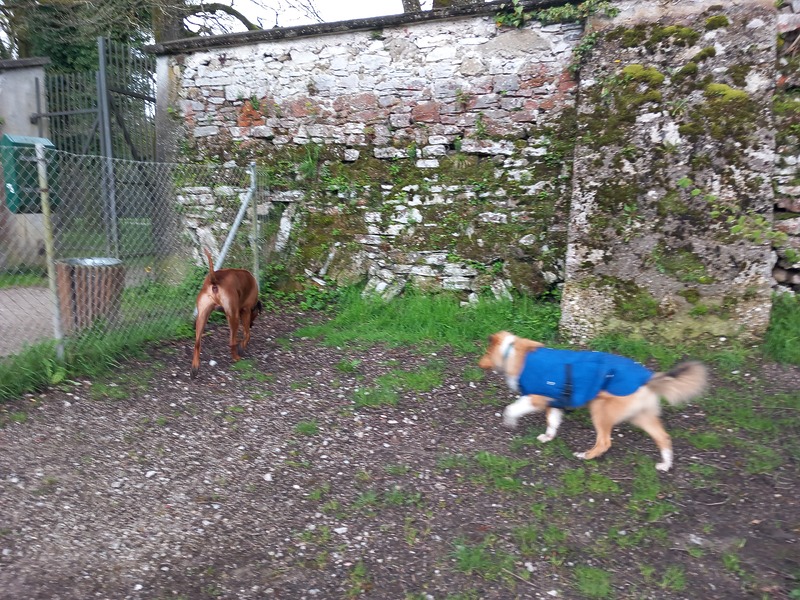 Friendship? I tried to protect you little nibbler and got a roasting!
Mmmh boss… maybe less stair and more tail wegging. The same thing that you Uncle Sam told…
It starts to rain cats and Dogs. We got wet, the camera got wet, the humans got wet too. We escaped under a roof.
I must say to temper the weather spell was not my finest idea. But can you understand? I hate driving cars.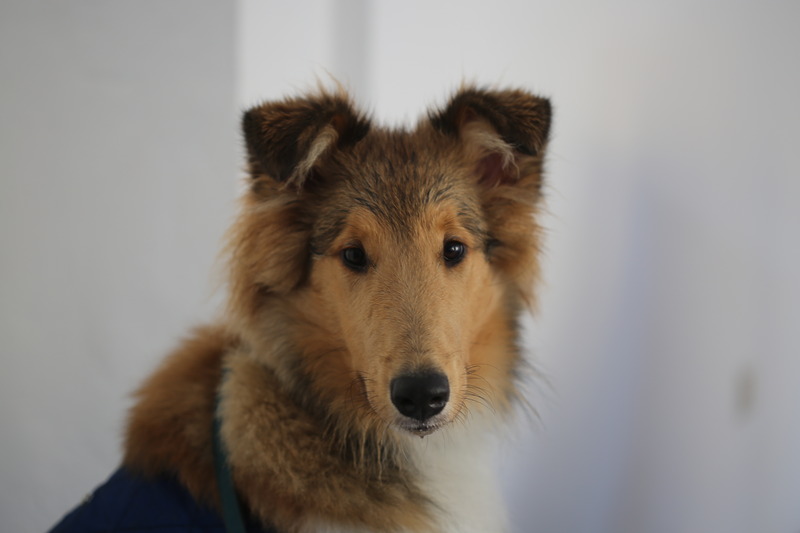 We explored the castle Hellbrunn as group. It was fascinating. Something new behind every corner.
Do you know that there are metal dogs?
Or, that sturgeons and big carps a living in the basins here?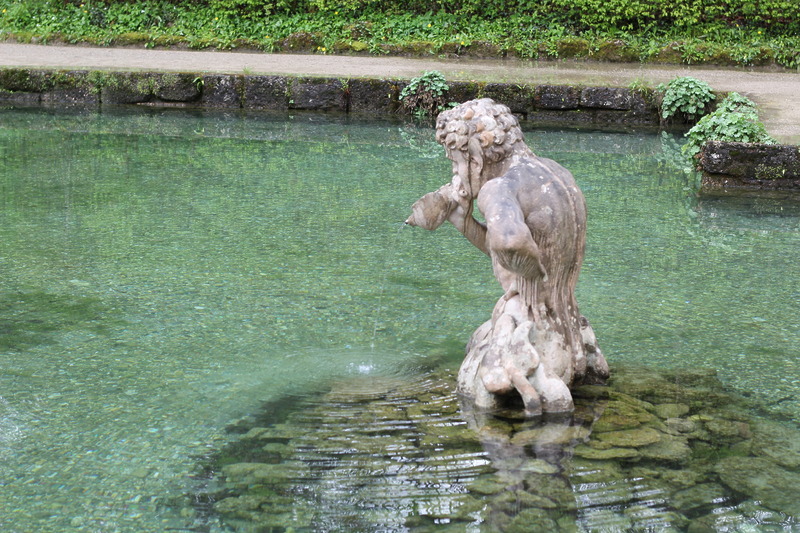 Apropos swimming. Samir swims regularly in the Salzach. I put out a paw to help him.
Snacktime! Why did Samir not try it? Yummy!
Samir must collect his new collar. We joined him and got some treats. Hudad found his souvenir. Mäckerchen (the little goat) was rescued for a donation to the local dog pound.
We have lunch break! So much walked…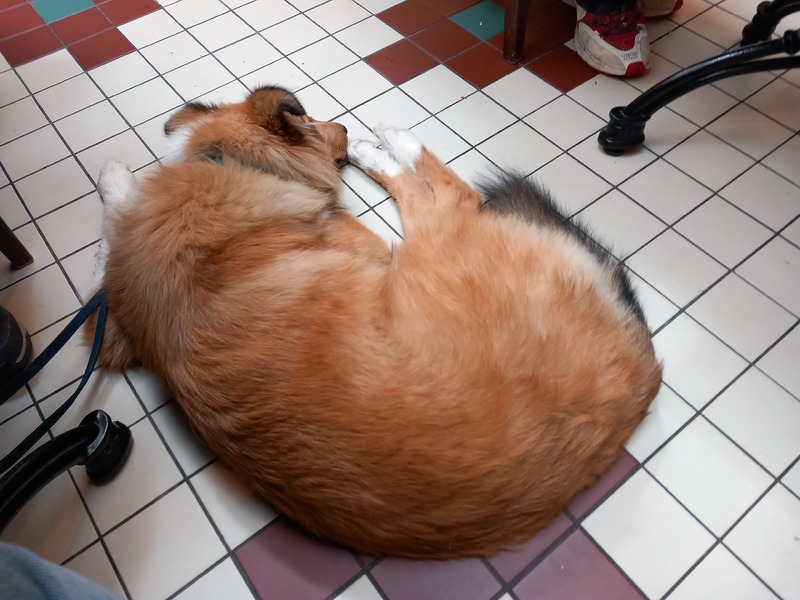 After this we drove to a viewpoint. The view over Salzburg is breathtaking.
I could try my first own armor! Luck I smugg or?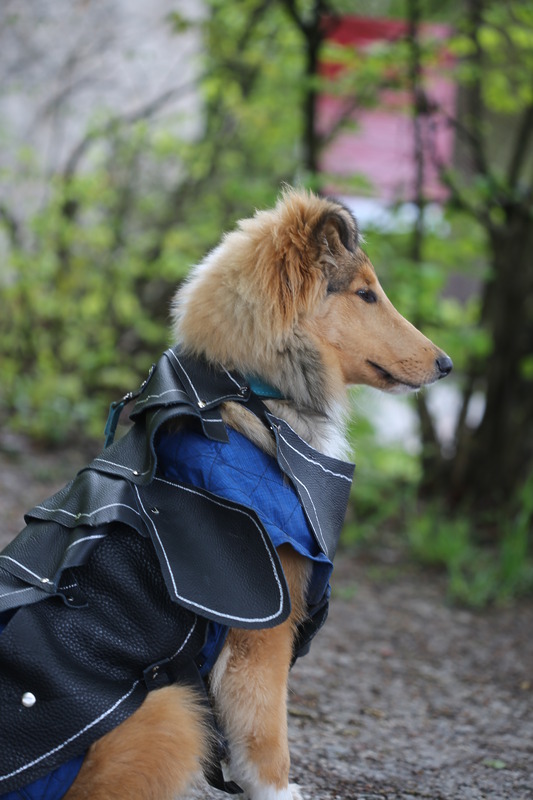 Samir checked my armor. He meant I must get stronger to fill it out!
I checked master Luciens armor and correct the fit of Chorny Chong! Tss master you must dress well!
We walked to the Hohensalzburg!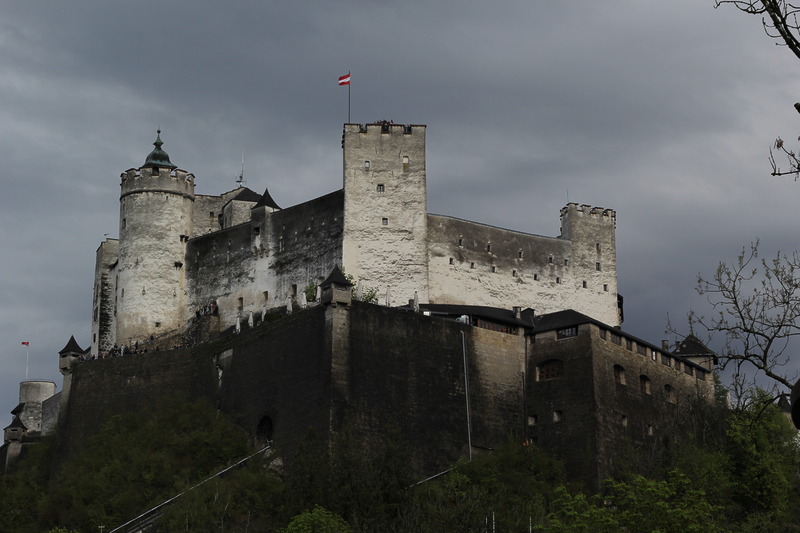 The sun came out. But humoms camera wont make pictures. We had luck that hudads was working well. Master Lucien was proud of my posing skill development.
After this we explored Salzburg.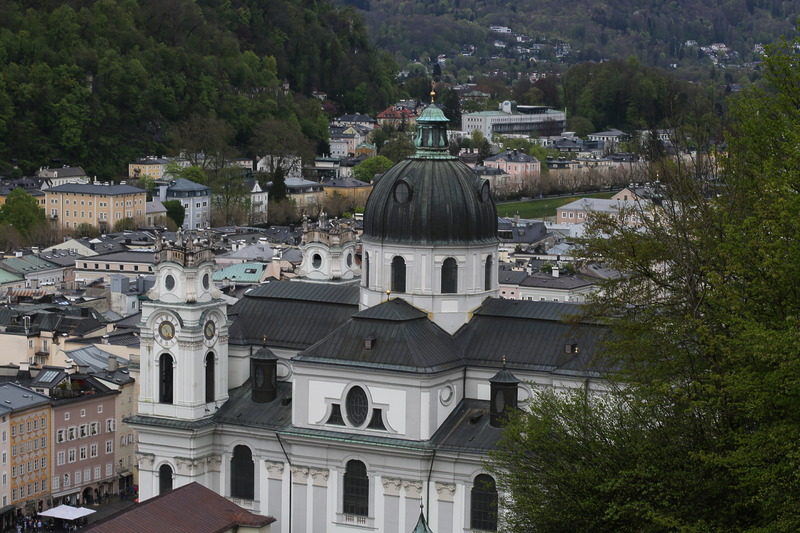 If the walls where less high I would see more!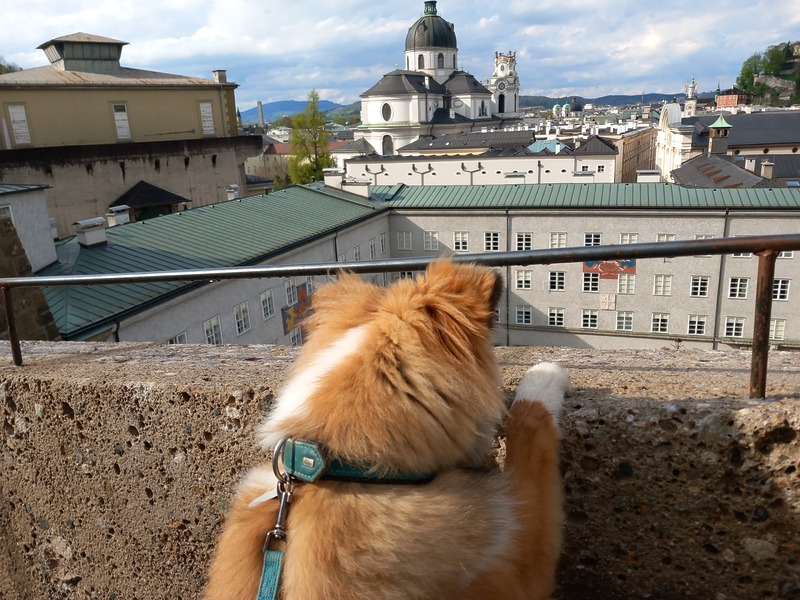 I must say, the weather makes a interesting atmosphere. I call it the twilight of the gods.
The humans stopped in the Cafe Fürst. There we could relax and the humans drink a hot chocolate.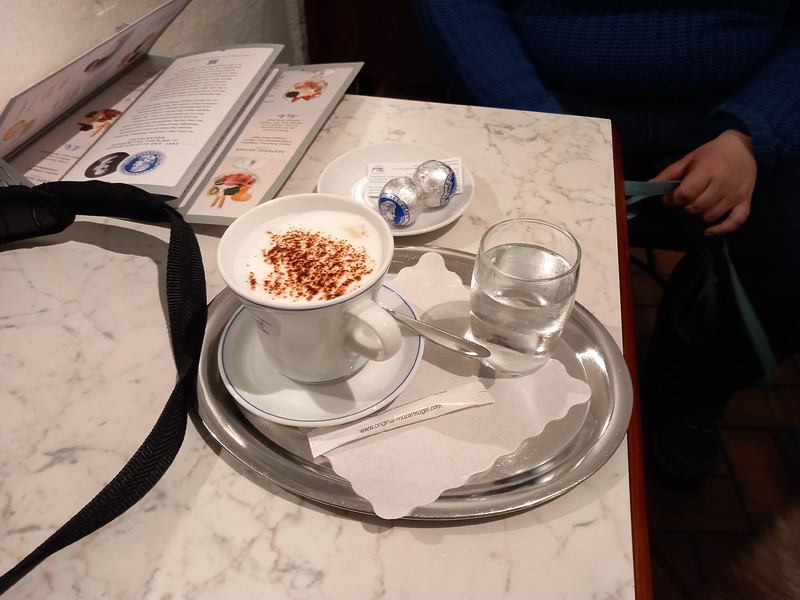 We saw horse wagons. And I got less scared.
Samir followed the wagon like a pro.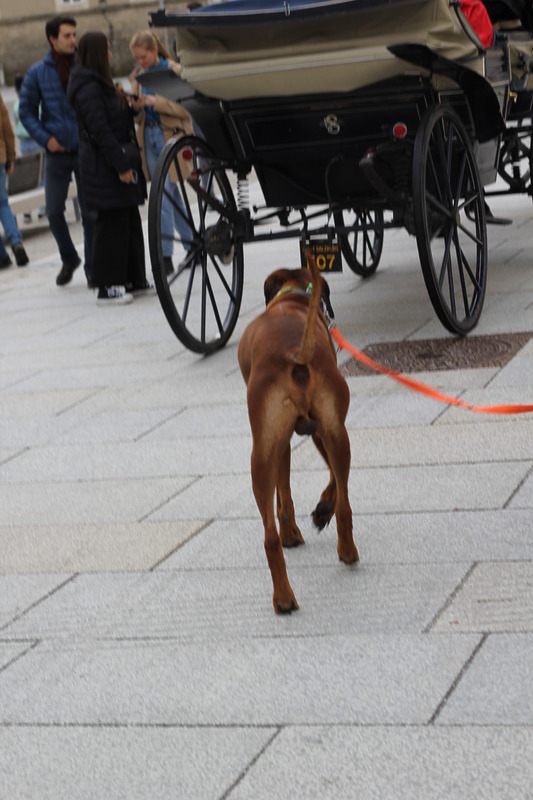 Next we visited Samirs workplace. He has a nice office and an indoor racing circle! I made a product test of the " Il-Do-Körperkerze".
I was allowed to clear out the office from treat and food traces. My cleaning work got best notes.
He removed with his long snute all treats under the desk and in the corners. Effortless.
After this I started the maintenance work of the masters sword. Tss… what a squire must do!
It was late but we got out to eat together dinner.
Now it's bedtime. Rest well!
Review
Today we meet our friends in Salzburg and explored this beautiful city.
Travel
We make only short travels, but the landscape is incredible.
Adventures
We discovered the secrets of Salzburg. Beautiful City!
Dog friendliness
Salzburg is very dog friendly. The doggy knight can join on all visited places. There are bowls for doggies at some wells.
Useful Information
The castle Hohensalzburg is good for walks. Use the walk to explore the city from top.
The Cafe Fürst is a good place to visit and relax. Test the Mozartkugeln there!
You need help with security or fire protection ask Roscus.at.
Visit our friends from Il-Do Deutschland on Instagram!